Artist-In-Resident Luka Ivanović aka lukatoyboy
The artist lukatoyboy [Luka Ivanovich] visited Hailuoto and Hai Art for 3 weeks in July-August 2015. 3 weeks of sound, blueberries, walks and talks, silent sessions.
ACTIONS:
- Lighthouse performance on International Lighthouse Day 18th August (video, images, sound)
- woods blueberry noise session (small video)
- junk yard sample session (video and sound)
- Organum sessions (sound, pictures)
- Walkie Talkie LAB action w/ local children (audio, pictures)
- Walkie Talkie bird tower Quartet (audio)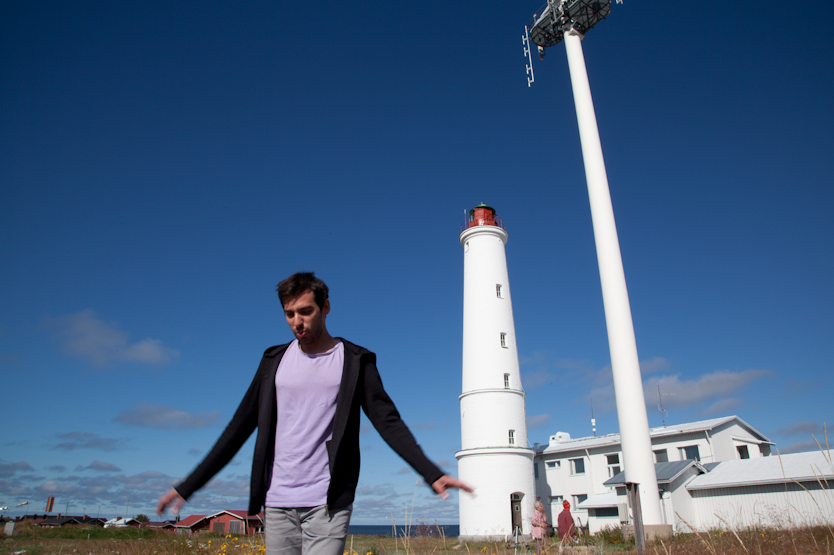 To the Lighthouse by lukatoyboy
To the Lighthouse is a live sound intervention by Hai Art / SOCCOS Artist in Residence Lukatoyboy, especially prepared for the lighthouse in Marjaniemi and staged for the International Lighthouse Heritage Weekend.
Although the lighthouse is a famous landmark in Hailuoto, there is another element which might not have the same visual, historical, and architectural value, but has a great influence on the Marjaniemi atmosphere.
Some visitors, who are desperately trying to capture a frame with the lighthouse without it's ugly brother (or sister), are very much aware of it.
The others, who have already spent a lot of years in Marjaniemi, maybe don't even notice it. Listen.
Yes - the radar. Its particular sound governs Marjaniemi nowadays (when the wind turbines are silent) and it's an audible counterpart to the lighthouse.
On Saturday the lighthouse will be filled with sound as well, raising the awareness of a unique soundscape which might be easy to miss for those who are not living in of the Marjaniemi huts.
This way, a duo of the lighthouse and the radar, will have its premiere.
Saturday, 15.8. 14:30
Impressions by lukatoyboy
Hai Art is based on an island with a population of 1000 people, which is a very different, rural, farming and natural atmosphere comparing to the European capitals I am the most familiar with. Nevertheless, a media lab is based there, and given the portability of the equipment and the internet connection, the actual workflow bears similarities, but everything else is very different: the audiences, the venues, media, transport, public spaces, social gatherings. Most of these things either barely exist, or are very particular and different to a city life. Its geographical aspects provided a neverending to surprise subtle change of ground, it being mostly sand, but sometimes ending up being a surprising mud, swamp or filled sponge-like dry organisms which sounded beautiful when crushed, but would then die, leaving permanent tire marks, as they are sometimes impossible to miss.
:::::
directly on soundcloud Marjaniemi Marina Gangway
ferry arrival
:::::
Excerpts from a shared diary
Hailuoto - week one
/
Not a single car on the road.
Sounds beatiful here:
contant waves
oscillating radar
percussive flag
ropes & poles.
Left internet "on"
in Luoto resturant area
behind the curtain
(suggested location)
off to sleep.
/
4 hours bike ride:
2 guys riding weird vehicles, wearing headphones with antennas
2 senior blueberries pickers, envious of their load
(1 pit stop with the best find so far, the biggest and the easiest to pick, although mosquitos are impossible to escape)
3 Thai women entering a car
1 car parked deep in a wood
/
Crazy hum coming from a farm-related house nearby,
a machine, truck-alike, in front of it.
The grid as the loudest sound on a road.
Some kind of sensor on the ceiling,
a good-night blink.
/
no shopping mall
no football team
no police
no cinema
no nightclub
one elevator
/
I went towards the bird tower.
It was ocuppied, and it was too early to stop.
Tried many roads, often dead-ended.
:::::
Organum Sessions:
sound soon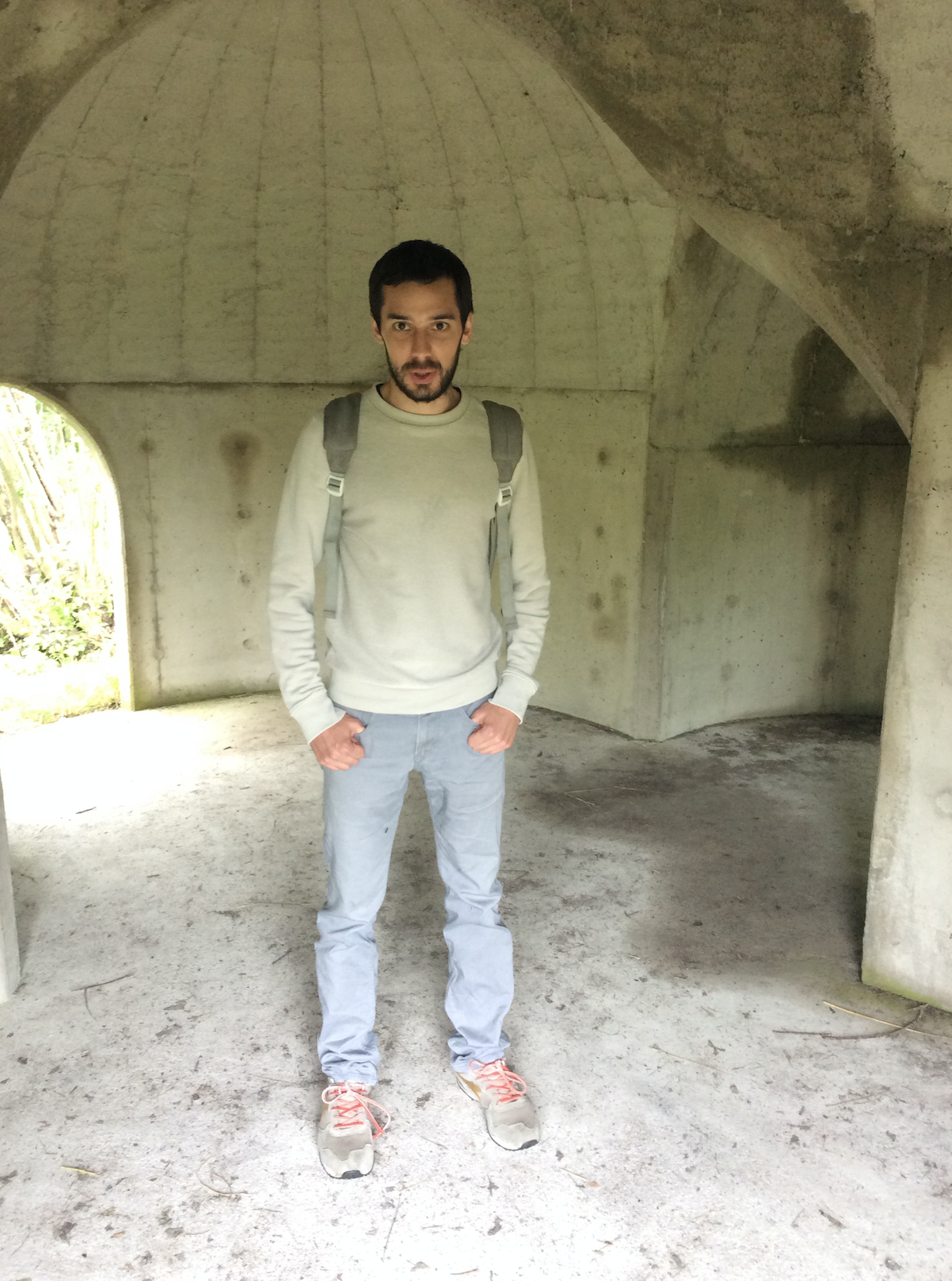 ::::
Hailuoto Junkyard:
sound soon
Sound in Hailuoto observations by lukatoyboy
Not being a city means you can get away from the traffics sounds. On top of that, no human made sounds are inescapable, which helps to discover the sounds of local nature. A different kind of noise occurs: the humming sea waves, the trees in the woods causing traffic-sound aural hallucinations, the local birds. Sometimes, the "rush hour" on the main road reminds you of how it is now for the majority of humans alive living in the cities.
The stream of cars (and buses, because of the summer season) provided the constant reminder, since all roads are connected to the main road.The small roads provided different sounds: sandy (being really quiet), rocky (being really loud when walking and biking, producing all kinds of small sounds as the effect of each footstep or wheel movement. Branches, and other kind of woods debris, were additional sounds on these roads, something which usually gets removed from city streets, if it becomes present at all.
To be able to perceive these as loud sounds, so many other sounds my ears were accustomed to had to be non-exist, which makes an interesting topic for a noise-to-signal debate.
It was also interesting to stumble upon a recycling scrap yard, where all kinds of human made objects waited for their next destination in a open field, which could be recorded outdoors, without disturbing anyone.
Night were so quiet sometimes that you could only hear the electricity grid, but then, on some nights you could hear constant hums of farming machines.
The sounds related to the accommodation / living situation places are the first and the last sounds we hear in our daily lives.
Comparing to a city, where all kinds of dynamic action are audible if living on a street side, and a bit less if within a backyard, at the first place I was staying in, the wind, since it was a marina, provided a lot of opportunities for loudness.
Its previously operating trio of windmills dissolves into a silent solo, but there is still is a very special sound caused by a radar, a very close and operating partner of an old landmark, the 19th century lighthouse.
The sound of the radar in Marjaniemi was my main inspiration in Hailuoto, as the thought material, and as readymade partner for a public event we staged (more on that later).
At the other, more in-the-actual-village place I was staying at, the loudness was both internal and external, related to sustainability of the farms and the guest house. The internal loud air condition, which was used (and I guess is much needed) for the kitchen, was quite something.
An occasional car was coming in an out, and suddenly it became an event - comparing to a city-constant stream of car sounds, in which we are able to identify only those much louder than avarrage events: blasting music, obssesive honking, trash picking, police or emergency sirens etc.
This particular example of a zooming out / zooming in thought process relating to "sound pollution" was constant throughout my stay in Hailuoto.
Talking further about this, I was informed about a single hut being alone in the woods, far away from the other houses and roads, therefor without sounds to disturb you. But there was a catch, it had a certain device, impossible to turn off, probably related to air, water or a sort of a fire alarm, and that sound usually disturbed the guests in the hut. It is another example of how much we can be focused to particular sound after being accustomed to the uncontrollable varieties of sounds and background noise in a city, and since recently, the majority of the population lives in a city-like soundscape.
Another very site-specific sound, albeit more as an effect, was tested and used for recordings - the Organum, an acoustic sculpture made by an architect and curated by Hai Art. It is positioned far away enough from any neighbor, after a road ends, and water starts.
The particular acoustics are free for everyone to explore, and there is no plane, car or similar sounds to disturb you - although you may hear some birds, depending on their time for calls.
I also recorded a sound of a friction, squeaks and bangs made during the contact between a sock gangway and the land in Marjaniemi marina.
These particular sounds last only while there is some particular wind, which causes water level to change (since there is no proper low tide / high tide) and/or brings a bit more waves into the marina than usual builded protection allows. It is an interesting sound, not only because of its musicality - you could easily imagine free improv percussionists and brass players - but also because of its dual origin - the construction would not provide any sound if no unpredictable and particular natural/geographical events would occur, nor would there be something like a dock gangway without the human in(ter)vention. This also is related to the topic of geography above.
LAB
more soon