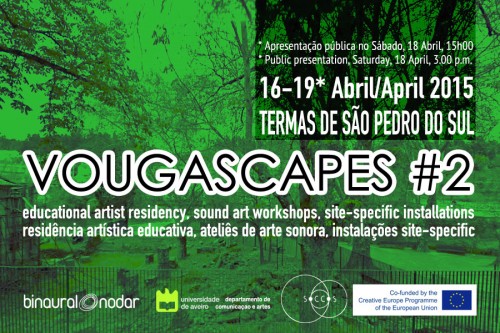 recidency
Vougascapes #2
Educational artist residency, sound art labs and installations in public space
Students of the Master of Contemporary Artistic Creation at the University of Aveiro
Co-organizers: Binaural/Nodar and Department of Communication and Arts, University of Aveiro
Termas de Sao Pedro do Sul, Portugal
16-19 April 2015
Public Presentation : Saturday, April 18th from 15:00
 (meeting point: Entrance of Hotel do Parque) .
Educational residency integrated in the activities of the SoCCoS European Network, funded by the Creative Europe programme of the European Commission.
For the fifth consecutive year an artist residency addressed to students of the Master of Contemporary Artistic Creation at the University of Aveiro will be developed in the municipality of São Pedro do Sul, with which Binaural/ Nodar has an ongoing partnership that is developed in several areas particularly related to the fields of sound art techniques and to the reflection between artistic creation and specific territorial spaces and communities .
A group of ten students will explore the creative potential of (both natural and cultural ) heritage spaces of the oldest and largest spa in Portugal, of Roman origins. The termal water baths were built in the 1st Century. In the Middle Ages the fame of the spa was such that even Afonso Henriques, the first king of Portugal, was trated there after breaking his leg in Badajoz, following a battle. The Roman building and the pool, "the pool of D. Afonso Henriques", remain, with walls in alternating courses of stone and brick and the entries in round arches, which unfortunatelly are closed and inaccessible to the public. Termas de Sao Pedro do Sul are bathed by the river Vouga, a river with which the relationship has also been difficult due to pollution that prevents swimming, where so many generations of São Pedro do Sul inhabitants learned to swim and refreshed during the months of summer heatwaves.
This year, this educational residency is part of the set of activities of SoCCoS ("Sounds of Culture, Culture of Sounds"), an European sound art network that includes, in addition to Binaural/Nodar, the cultural organizations Q0 -2 (Belgium), Hai-Art (Finland), Disk/CTM (Germany) and AIR (Poland) and the residency will have the involvement of the artists who will be developing work at the same time in the Gralheira mountain range (Pierre Berthet, Helena Espvall, Yannick Guédon).
The end result of this residency will be a set of sound and visual installations to be presented by the students on Saturday April 18th, being commented by teachers, Binaural / Nodar's team and, why not, by the participant audience.